De Pere Sportsmen's Club
Est. 1952

Upcoming Events & News:
---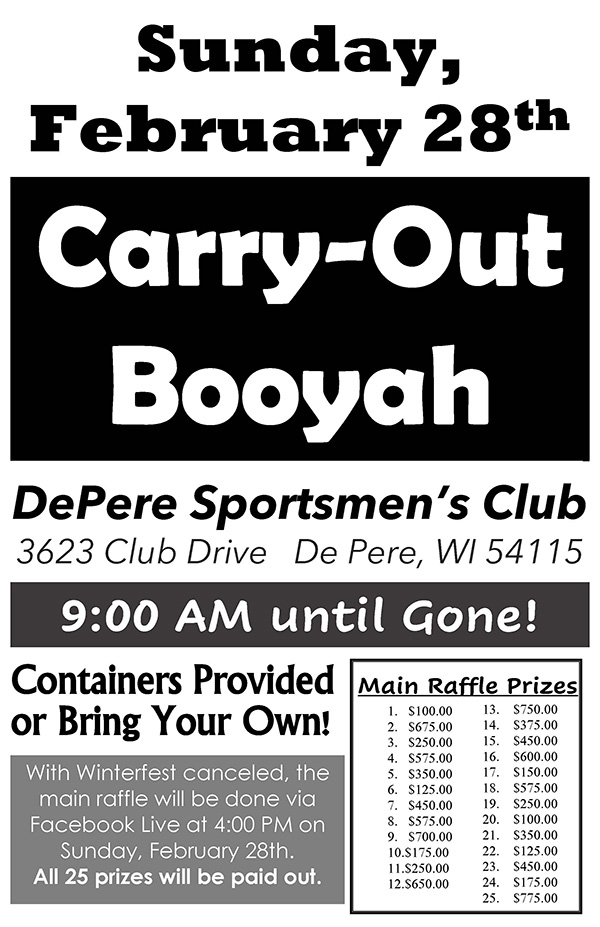 ---
Winterfest 2021 Canncelled, But Will Have Carry-Out Booyah
Sunday February 28, 2021 carry-out booyah from 9 am until gone!
Main raffle via Facebook Live around 4 pm with all 25 prizes paid out!
Please help support your club by purchasing a ticket from one of the Board of Directors! Tickets will go fast! Only 1,000 sold at $20.00 a ticket.
---
Members, your club needs your help!!
With all the unforeseen circumstances surrounding COVID-19, the Board of Directors have decided the health and safety of our members, community, and their families is our number one priority, therefore, it is with great sadness that we announce the cancellation of the 69th Annual Winter Festival on Sunday, February 28th! To keep a small part of the Winter Festival tradition alive, we would like to server our famous booyah, but we need your help. Please consider a monetary donation to your club for booyah ingredients to make this Winter Festival a success. Thank you for continued support! (Donations can be mailed to PO Box 21, De Pere, WI 54115)
---
Open Indoor Archery Shooting
There will be open indoor archery during trap nights starting 1/14 every Thursday. It is $5 a person begining at 6:30 pm. The range will be limited to 10 people at one time, so first come first served!
---
Who we are...
Welcome to the DePere Sportsmen's Club! Established in 1952 by a group of dedicated volunteer sportsmen to further promote shooting sports in the Green Bay area, the De Pere Sportsmen's Club continues to provide opportunities for people of all ages to experience the benefits and beauty of a lovely natural surrounding while continuing to educate community members, and promote a wide range of shooting sports in a safe appropriate facility. The legacy of the founders continues today through the regular efforts of volunteers. Check in with a Board member to find out how you can help continue the legacy for future generations.
De Pere Sportsmen's Club offers a wide variety of leagues and annual events for you and your family, whether you are an experienced shooter, or a newbie looking for a place to learn and experience shooting sports. Do you have a son or daughter who would like to learn how to shoot? There are always experienced shooters both available and willing to help you with the basics, and steer you or your child into another Club opportunity. Emphasis is always placed on safety first to establish safe gun and bow handling habits. The De Pere Sportsmen's Club really takes an active interest in getting shooters started off right, and including them in the activities of the Club. De Pere Sportsmen's Club is proud of their collective role in bringing these fun sports to new generations of enthusiasts.
Whether you are interested in joining a league, shooting a few open rounds, or just grabbing a bowl of our famous chicken booyah at the festival, you'll surely find yourself at home at the De Pere Sportsmen's Club.
Copyright © 2021. De Pere Sportsmen's Club. All rights reserved.